Founded in 1976, Warwick Bears Ultimate Frisbee Club is the longest surviving Ultimate club in Europe, and among the oldest in the world. The club is a major player in the Midlands and has won several national titles in the Open, Women's and Mixed University divisions.
We're a friendly club always on the lookout for more members and welcome complete beginners as well as experienced players. We train both indoors and outdoors, several times a week. If you are heading to Warwick University be sure to head to one of our taster sessions in weeks 1 and 2.
Ultimate Frisbee has been governed by BUCS since 2008; Warwick Bears won the gold medal in the inaugural BUCS season and have proceeded to qualify to nationals regularly.
2013 saw the first game between Warwick Bears and Coventry Firebirds. Bears won this inaugral Varsity game and Ultimate Frisbee has since been a regular Varsity fixture, which Warwick has won every year!
Warwick Bears are also famous for their packed social calendar, with weekly events for all, organised by our hard-working social secretary. Activities range from "circling" in the Students' Union to meals, pub crawls, disc golf, clubbing and many more.
The club is run by a dedicated 'Exec' committee who are elected by members annually. Any member may run for one of these positions and newcomers are encouraged to get involved! To find out more about the current and past exec members, please visit our Exec page here.
If you have any questions or want to find out more, head over to our Contact Us page or contact us on Facebook; we'd love to hear from you!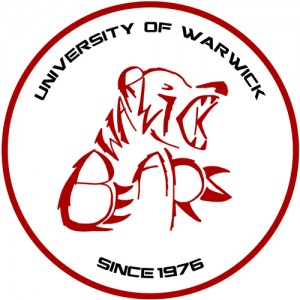 Club Results
2016/17
Men's 1sts
11th / BUCS Men's Outdoor Championship
3rd / Midlands 1A BUCS League
13th / Men's Indoor Nationals D-I
1st / Men's Indoor Regionals
6th / Windoors 2017

Women's 1sts
11th / BUCS Women's Outdoor Championship
2nd / Women's Outdoor Regionals
9th / Women's Indoor Regionals
Men's 2nds
4th / BUCS Men's Outdoor Trophy
6th / Midlands 1A BUCS League
15th / Men's Indoor Nationals D-II
6th / Men's Indoor Regionals
13th / Windoors 2017

Mixed
12th / University Mixed Outdoor Nationals
4th / Mixed Indoor Nationals D-I
7th / Mixed Indoor Nationals D-II
2nd / Mixed Indoor Regionals
2015/16
BUCS University Men's Outdoor Championship – 9th Place
University Mixed Outdoor Nationals – 16th Place
Western University Women's Outdoor Regionals – 10th place
Midlands 1A BUCS League – 3rd place
Midlands 2B BUCS League – 1st place
University Men's Indoor Nationals D-I – 16th place
University Mixed Indoor Nationals D-II – 1st place
WIndoors – 7th place, 13th place
West Midlands & Wales University Men's Indoor Regionals – 2nd place (won spirit), 8th place, 13th place, 16th place
West Midlands & Wales University Mixed Indoor Regionals – 3rd place, 7th place, 10th place
Western University Women's Indoor Regionals – 8th place, 20th place

2014/15
BUCS University Open Outdoor Championship – 14th place
BUCS University Men's Indoor Championship – 12th place
University Mixed Indoor Nationals – 3rd place
University Mixed Outdoor Nationals – 17th place
University Women's Outdoor Nationals – 26th place
BUCS University Women's Indoor Championship – 5th place
WIndoors – 5th place
West Midlands & Wales University Men's Indoor Regionals – 2nd place, 10th place, 14th place (won spirit)
West Midlands & Wales University Mixed Indoor Regionals – 2nd place, 6th place
West University Women's Indoor Regionals – 4th place

2013/14
BUCS University Open Outdoor Championship – 6th place
University Open Indoor Nationals Division 2 – 1st place
University Mixed Indoor Nationals – 2nd place
University Women's Outdoor Nationals – 21st place
WIndoors – 3rd place
Midlands University Open Outdoor Regionals – 1st place, 9th place, 17th place
Midlands University Open Indoor Regionals – 4th place, 10th place, 25th place

2012/13
University Open Outdoor Nationals Division 2 – 6th place
University Open Indoor Nationals Division 2 – 10th place
University Mixed Outdoor Nationals – 6th place
University Mixed Indoor Nationals – 16th place
University Women's Outdoor Nationals – 8th place
WIndoors – 10th place
Midlands University Open Outdoor Regionals – 5th place, 17th place

2011/12
BUCS University Open Outdoor Championship – 15th place
University Open Indoor Nationals Division 2 – 5th place
University Mixed Outdoor Nationals – 20th place
University Mixed Indoors Nationals – 6th place
WIndoors – 3rd place

2010/11
BUCS University Open Outdoor Championship – 5th place
BUCS University Open Indoor Championship – 5th place
University Mixed Outdoor Nationals – 2nd place
University Mixed Indoor Nationals – 1st place
University Women's Indoor Nationals – 2nd place
WIndoors – 1st place
Midlands University Open Indoor Regionals – 1st place
Midlands University Mixed Indoor Regionals – 1st place

2009/10
BUCS University Open Outdoor Championship – 3rd place
BUCS University Open Indoor Championship – 5th place
University Mixed Outdoor Nationals – 1st place
University Mixed Indoor Nationals – 3rd place
University Womens Outdoor Nationals – 1st place
University Women's Indoor Nationals – 3rd place
WIndoors – 2nd place
Midlands University Open Outdoor Regionals – 1st place

2008/09
BUCS University Open Outdoor Championship – 1st place (and spirit winners)
BUCS University Open Indoor Championship – 3rd place
University Mixed Outdoor Nationals – 1st place
University Mixed Indoor Nationals – 1st place
University Women's Outdoor Nationals – 3rd place
University Women's Indoor Nationals – 3rd place
WIndoors – 1st place

2007/08
University Open Outdoor Nationals Division 2 – 1st place
BUSA University Open Indoor Championship – 2nd place
University Mixed Indoor Nationals – 2nd place
University Mixed Outdoor Nationals – 1st place
University Women's Indoor Nationals – 8th place
Midlands University Open Indoor Regionals – 1st place

2006/07
BUSA University Open Outdoor Championship – 12th place
BUSA University Open Indoor Championship – 7th place
University Mixed Indoor Nationals – 10th place
University Women's Indoor Nationals – 4th place
Midlands University Open Indoor Regionals – 1st place