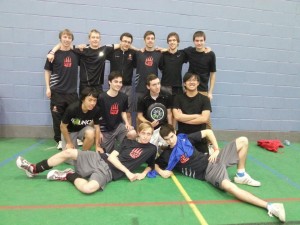 With beginners' tournaments coming up over the next two weekends, I have one piece of advice for Frisbee freshers: sign up.
Admittedly, I was unsure how to respond when I was presented with a sign-up sheet for last year's first beginners' tournament in Loughborough. After all, I was still grappling with the rules of the game while more than a little confused by jargon like "stack" and "cut". What's more, I knew very few people on the team and had no idea how to throw anything other than a very shaky backhand.
As it turned out, there was no need to be worried. The restriction of one experienced player on the field per team allowed us newbies to face off against players of a similar level without fear of reprisals for making mistakes, and I started to try new throws and manoeuvres with each new game. By the time the tournament was over, I had learned zone defence and accidentally created my own embarrassing goal celebration (just ask someone about "The Carter").
Between matches, the tournament also acted as my first exposure to the Bears tradition of completely ignoring the dress-code at fancy-dress parties and, vitally, the opportunity to start drawing up plans for the beginners team that continues to act as a learning platform for all of us. One year and countless games of Mafia later, that first weekend laid the foundation for building a really solid group of friends.
If you're still unsure about beginners' tournaments, give it a shot; the experience could set you up for a great year of playing one of the university's most exciting sports.